A 'limited edition' Crazy Snow Camp… with a special goal
Switzerland, April 20-22, 2017
I invited you to participate for free(1) in this Crazy Snow Camp, because there is a special goal: creating image material that I can use for promotion of Crazy Camps. This means: we'll be making some pictures of 'typical' Crazy Camp situations/activities, as well as some video's. These video's will be mainly in 'how to' format (for example: how to cook for a group, how to deal with snoring group members, how to dress for skiing/snowboarding/winter hiking, how to wash if there is no shower(2) (3), how does the Crazy Camp Mountain Sauna work(3), how to efficiently cut wood for a wood stove, etc.) and maybe a couple of 'general impressions'. You could be one of the 'actors' – simply by being yourself.
(1) Participation in this special edition Crazy Camp is free but I will ask you for an advance payment of EUR 100; I will reimburse your EUR 100 on the first evening in the hut. This is to avoid that I end up sitting alone on the mountain. I cover your cost of accommodation and of breakfasts, lunches and dinners. However your travel cost, skipass, equipment rental (if needed; maybe I can borrow you some gear), alcoholics and snacks are at your own expense.
(2) There is actually a shower in this hut but that's not the case in all huts where Crazy Camps take place, so we'll make that video anyway :)
(3) If there are subjects where nudity can be involved, it will be videographed in a way that no 'sensitive' parts are shown. If it's in the sauna you might have a towel around you if you prefer.
We will sign an agreement that states that I can use the pictures and video's only for my own projects and that I can not sell them to third parties. I would use the material for the CrazyCamp.org web site, the CrazyCamp.org Youtube and Vimeo channels, Crazy Camp promotion on Facebook, Meetup.com for example.
Here is an example of the kind of video that I have in mind:
How to sleep in an alpine mountain hut – Typical sleeping arrangement from CrazyCamp Org on Vimeo.
The nice thing about these how-to video's is that they are helpful for (new) Crazy Camp participants, and they will show up in Youtube-results when people are looking for information on how to [enter mountain-related subject here] and then they will get to know about Crazy Camps :)
I really hope that you will join this little project. You will have a fantastic time in the mountains and your participation helps me a lot. The video/picture shooting will be maybe 3 hours per day; the rest of the daytime you can enjoy the mountains. In the evenings we'll be doing the 'usual' surprising Crazy Camp activities :)
So where will we be?
We'll be in a simple mountain hut in a high, remote valley with no village but some ski lifts, nordic skiing trails, (snowshoe) hiking trails and excellent backcountry skiing possibilities.
This is at at Engstligenalp in the Bernese Oberland, close to Adelboden. The microclimate in the Engstligenalp valley makes that the snow season is much longer here than in other resorts. Here the ski season ends every year after the first weekend of May…
Our hut (at 1.950m altitude) is simple but does have an electric stove and a shower.
Please bring a sleeping bag. Ski- and snowboard-equipment, nordic skiing equipment and snow shoes can be rented in Engstligenalp, if you're not bringing your own. Of course we're not going to do all these different snowsports all together; if you're a skier, you'll be skiing; if you're a hiker, you'll be hiking, etc. :)
Please send me an e-mail (or FB message) ASAP if you want to participate! And also if you have any questions. We'll try to set up ride shares to make transport as affordable as possible.
If you want to stay longer, then you can add one night by including my Meetup event on Saturday/Sunday in the same hut. However you would have to pay the normal EUR 105 for this. Check the details at https://www.meetup.com/Hiking-and-Culture/events/237835000/ and you don't need to be a meetup.com member for this.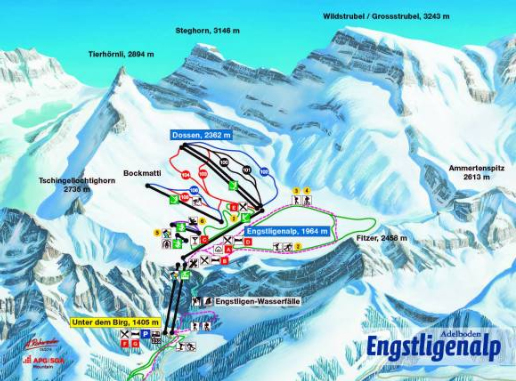 ---